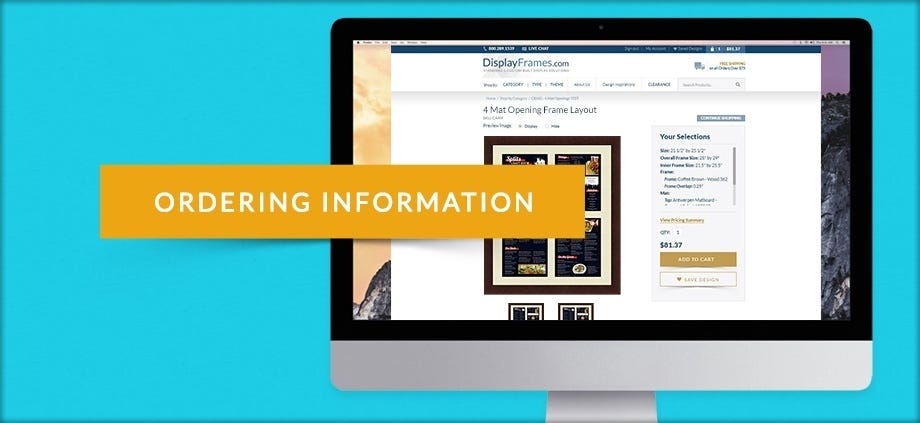 How to Place an Order
We have several ways to place an order. You can place the product(s) you wish to order in your shopping cart by clicking on the "Add to Cart" button located on each product template page. When you're ready to complete your order, click "Checkout" from within your cart and follow the easy to follow steps to complete your purchase. Another option is to call us and we can place the order for you over the phone. Or lastly, if approved you can send us a Purchase Order.
payment Options

We accept all major credit cards, including Visa, Mastercard, American Express,
and Discover. We also accept PayPal, Checks, ACH Payments and Bank Wire.
Note: Non-Certified Checks received will be deposited, and once cleared by the issuing bank, we will process and proceed with the order.

Please Mail Check Payments to:
Access Display Group, Inc.
151 South Main Street
Pay by Phone
Although our website offers industry compliant encryption for all payments placed through our website, you can still call us with your payment. Simply select the Pay by Phone option during checkout, and continue the steps to complete your order online. Once the order is placed, you then can call our Customer Service team with your order confirmation number and credit card information to provide payment securely over the phone.
Order Cancellations or Modifications
All orders are custom built to your design specifications. Please speak with our Customer Service Team as soon as possible if you wish cancel or modify your order, as we have a very short window of opportunity before your Display Frame is officially moved to production. We do not modify orders. If you wish to modify your order or add additional items, we will need to be alerted immediately to cancel and refund your order.
You can then place a new order with your desired design modifications and additions.
Product Information
We offer wide-ranging design variations in 4 different Product Types. If you need assistance or additional information on which display type works best for your project and budget, please contact our Customer Service Team. They're trained Display Frame experts, and would love to hear from you!
Product Warranty & Returns
Please review our Warranty & Returns page for more detailed information.
Privacy & Security
DisplayFrames.com shares your concerns about personal information and how its stored and used. You can feel confident we respect your privacy. For more information, please see our Privacy Policy.

---
FAQ's
When will my Credit Card be Charged?
Since each product ordered is custom built to your design specifications, all Credit and Debit cards are charged in full at time of purchase.


Will I Get Exactly What I See on your Website?
We strive to display product images within our customizer as accurately as possible. However, we cannot guarantee that the color you see will exactly match what you receive, as the display of the color depends, in part, upon the monitor you are using. We also on occasion will have frames and other assembly components come in from our suppliers with slight variations. If you have any concerns before ordering, please contact our Customer Service Team.


Can I Expect the Product Dimensions to be
Accurate when I Receive it?
For the most part our specifications are spot-on accurate. However based on materials provided by our suppliers, we do allow a tolerance of (+/-) 3/16". If you have any concerns before ordering, please contact our Customer Service Team.


What do I do if my Order Doesn't go Through?
If this happens, our Customer Service Team is here to help. But first lets see if any of the answers below can assist.

Did you get a red message at checkout to review your payment or billing details entered?
Our billing address verifier may be the reason, so make sure you enter the EXACT address shown on your Credit Card Statement.
Did the products in your cart disappear?
Not your day huh? Call or contact Customer Service to help assist in getting your product(s) back into your shopping cart.
Did you not get an email order confirmation?
Did you check your junk/spam folder?
Still no email?... It's possible you may have entered your email address incorrectly.
Please Contact us and we will help you track it down.


What if I get Billed More than Once?
It's rare and could happen, but you're most likely just seeing multiple authorizations. Please be patient when submitting your order, and remember that every time you click the submit order button, your card could be authorized for the total amount in your shopping cart. However, an authorization is not a charge! Any unnecessary authorizations will be removed from your credit card statement as soon as your bank verifies that we did not process the charge. This can take from 2 - 6 business days for the authorizations to be cleared. We understand how this can be frustrating, so Contact Us, and we'll triple check for you!


Do I have to pay Sales Tax?
For orders shipping to New York or New Jersey, we do collect local sales tax. All other states will not be subject to any local taxes by DisplayFrames.com. If you are a tax exempt entity or reselling our products, you must provide the proper forms or exempt letter to our Customer Service Team to be exempt from any taxes when placing your order(s). If you do place an order and provide proper documentation after its placed, we will refund any taxes collected on your order.


Buying In Bulk?
We offer additional price discounts and shipping discounts based on the product and volume being ordered. For information on wholesale / bulk orders, please see our Business & Wholesale Services page.