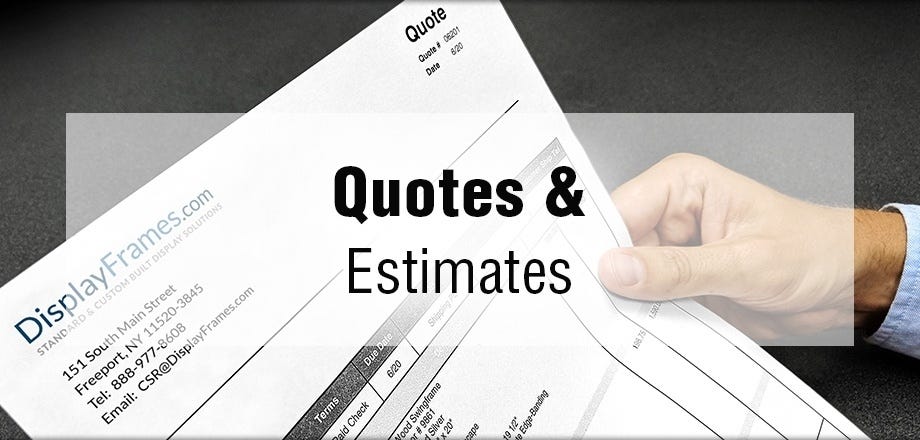 Whether you're requesting a volume price for large quantities, looking for cost savings on bulk shipments, simply needed for internal purchase order approvals, or for any other reason...

We try to make the quoting process as quick and easy as possible.

do you have your frame design ready?
If you have already created and completed a design with our online customizer, and now require a formal quote, please see steps below.
Do you need help with a design?
If you need help finding a design that will meet your display requirements,
please contact customer service, we're ready to help!
If your design specifications are outside the scope of our online customizer, fear not, our design team is available to discuss your project requirements. If you have a design NOT created from our customizer, please send us those details / images for review. At this point we will work with you to provide a quote for your product design.


Any Discounts for Large Orders and Bulk Shipping?
Yes, depending on the quantity and product type, further discounts and bulk ship savings may be available when buying in high volume. All savings will be applied to your quote.
Ready to proceed with your quote?
First things first, triple check the sizing and design details to assure that you will receive the exact Display Frame requested. Please follow the steps below to get your order into production.
E-Mail, Snail-Mail or Fax to us a copy of your signed quote and payment method.
Once both are received, an Order Confirmation will be sent back to the email on file.
When submitting Payments by Check,
please send to our address below along with the signed quote.
Access Display Group, Inc.
151 South Main Street
Do we offer Net Terms on Quotes?
Yes we do offer Net Terms for qualified customers.
Please see more details on our Purchase Orders Welcome page.
Help us clarify your Quote
We will need a few details outlined below:
Contact Name and Email Address of where to send your quote.
Billing and Shipping Address (this can always be modified).
Product Quantity and Product Details (see below for further instructions).
If you are able to create your design through our online customizer, we will need a screenshot or print out with all of the product attributes you've selected. This will cut down on any potential product questions we may have, and help ensure that our quote we provide is 100% accurate.

If you are NOT able to create the exact product you need, and require additional design modifications or options, please continue completing your design as close as possible. This will help our design and customer service team have a better visual understanding, to help speed up the quote process. If you have an image or drawing or submittal with specs, please email to CSR@DisplayFrames.com.
Below is a visual aid of how best to capture the product information we will need.
If you have any questions please call us at 1-888-977-8608. We're here to help!
How to save & Share your design Specs
Below are 2 steps we will need, to help clarify your product details when providing a Quote.
STEP 1: Save Design
The Save Design button located on each product page will prompt you to create a user profile, that will allow you to save multiple designs with all the specs you've selected. You will be able to login anytime to view / edit your saved designs, or simply to place your order.


STEP 2: Add to Cart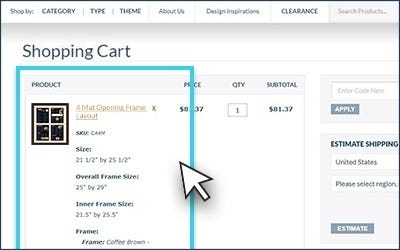 After saving your design we reccommed adding your product(s) to the shopping cart page. At this point, please take a screenshot, or provide a printout of your complete cart with all items and quantites.

You can now send in this information along with your Contact Name, Email Address, & Bill / Shipping Info.
Most quotes are provided within 1 business day.