Our Online Specialty Display Shops
---
Standard and Custom Built Wall & Floor Standing, Outdoor & Indoor Display Solutions.
These secure e-commerce websites feature Poster Displays, Sign Holders, Display Cases, Illuminated Displays, Wall and Floor Standing Display Fixtures and Custom Displays. From the patented multi-purpose SwingFrame displays and Floor Stand Displays to Enclosed Cork Bulletin Boards, Shadow Box Display Cases, Changeable Letter Boards, Poster Displays, Sign Holders, Snap Frames, Backlit and LED Lightboxes, we provide the widest selection of wall, floor and counter displays for Retail Stores, Corporations, Institutions, Government Agencies & Military Facilities and Residential - all markets and industries.
We Manufacture, Design And Distribute
Access Display Group online display shops are just a few of the online display fixture websites available now with a specific display product category to simplify and meet your display challenges, design and budget requirements. Call us with questions or for help in finding the right display, or if you need a custom display or volume quote.
---

More Displays. More Display Solutions. That's what Displays4Sale is all about. We offer a comprehensive selection of display fixture categories, for wall, floor and counter tops, to meet wide-ranging display needs including; poster display, sign holders, back lit and LED light boxes, shadow box cases, message, poster and signage floor stands, restaurant menu cases, SwingFrame frames and displays, outdoor display cases, outdoor sidewalk sign stands and curb stands, top load poster frames, poster snap frames, changeable letter boards, banner stands, dry erase boards, blackboards and whiteboards, swinging art panel displayers, multi-panel poster displays, poster racks and lots more. Also, Display4Sale has lots of photos, details and easy navigation to help you in choosing the right display. Click Here
---
SwingFrame is the USA Designer and Manufacturer of Patented Swing-Open, Changeable Frames, Display Cases and Signage Fixtures. For over 15 years, thousands of Corporations and Retail Stores, Service Companies, Businesses, Institutions, Government Agencies and Military Facilities have purchased from SwingFrame Manufacturing for wall mount changeable poster display frames, sign stands, shadow box cases, display cases, enclosed bulletin boards, changeable letter board and message displays, signage fixtures and numerous other displays for their advertising, visual merchandising and visual display projects. Call our design services to request custom built displays or for volume quotes. Click Here
---
SwingFrames4Sale.com is our ecommerce website that offers our "SwingFrame" multi-purpose display system and all the wall and floor display products associated with this patented display design. These quick-change, swing open enclosed displays include Poster Displays, Sign Holders, LED and Backlit Lightboxes, Shadow Boxes, Display Cases, Designer Cork Boards and Enclosed Bulletin Boards, Enclosed Letter Boards, Dry Erase Boards, Restaurant Menu Frames, Newspaper Frames and SwingStand Floorstands as well as a variety of other signage and presentation displays. Visit www.SwingFrames4Sale.com to view the floor and wall mount poster, sign and display case products thousands of companies across North American and overseas find and purchase every year. Click Here
---
Floorstands.com is our poster, sign and display fixture e-commerce website that presents a huge variety of free-standing displays for all kinds of signs, posters, graphics, art, photography and product display. From aluminum to steel and wood display fixtures we offer indoor and outdoor floor stand solutions to meet your wide-ranging signage display application needs. We offer poster stands, sign stands, sidewalk sign holders, weather worrier sign stands, curb stands and garage sign stands, display case stands, banner stands, message stands, letter board stands, and poster snap frame and sign holder stands. Many of the floor stands are designed and built by our company owned SwingFrame Manufacturing. If you are a designer, visual merchandiser or buyer, visit www.floorstands.com, you'll be surprised how much there is to choose from. Click Here
---
We offer the widest and finest selection of art and poster displayers. These contemporary displays meet a wide-range of wall, floor and counter top applications. Display products designed by leading USA and International manufacturers include art displays, swinging poster racks, presentation displays, exhibit panel systems, and art bins. You won't find a greater selection of these display products anywhere else. Click Here
---
SnapFrames4Sale offers all kinds of wall mount and floor snap frame displays for your wide-ranging advertising and signage needs -Indoors or outdoors. This website features our most popular poster snap frame; a mitered aluminum snap frame with a 1 ¼" wide profile in Black, Satin Silver and Gold frame finishes. In fact snap frames, also known as poster clip frames and poster grip frames, are the most popular, fast change picture framing system in the world. It's economical and considered a cost effective poster frame solution for large volume poster display frame projects. At SnapFrames4Sale we offer over 10 styles of snap poster frames including faux wood snap frames, 2 ½" wide profile snap frames, thin ½" and 1" snap frames, radius snap frames, (lockable) security snap open frames and our new Snap Frames with Matboards. Click Here
---
Outdoor Display Cases features lockable, weather proof outdoor display cases. If you're in need of a wall mount display case or free standing display case on posts that can withstand the typical everyday outdoor elements, we got lots of standard outdoor displays and custom display cases to choose from including one door, two door and three door display cases. You'll find lighted outdoor display cases, outdoor cork board and bulletin board displays, enclosed outdoor letter boards, message centers, restaurant menu cases, poster cases and enclosed poster case stands. With so many standard outdoor display case styles to chose, you're sure to find the right outdoor display case for your poster, signage or message needs. Click Here
---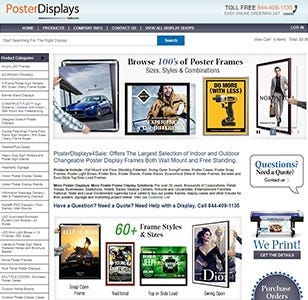 PosterDisplays4Sale is our website that presents the widest selection of changeable poster frames, poster display cases and sign fixtures, for advertising promotions, signage and other printed promotional announcements. This site offers all of our USA manufactured and patented swing open, changeable SwingFrame poster displays and other quick change frames including snap open, Poster Snap Frames, and Easy Top Load poster frames. You'll also find indoor and outdoor sign stands and poster stands. If you're in need of Wall Mount Poster Frames, Poster Floor Stands and Racks, Backlit and LED Poster Light Boxes or any other illuminated or non-illuminated poster display visit PosterDisplays4Sale.com. Click Here
---
ShadowBoxes.com is a USA manufacturer of enclosed Designer SwingFrame Shadow Boxes. No other online shadowbox store offers an incredible array of swing open shadow box cases that come in metal and wood profiles. No other shadowbox company offers as many standard sizes and deep shadow boxes. No other Shadowbox company offers empty shadow boxes starting with our small 8x10 shadowbox frame size to large shadow boxes with interior depths of 1,2,3,4 inches with custom shadow boxes and shadow boxes cases 12 inches deep. Lighted shadow boxes and enclosed shadow box with shelves are also available. Click Here
---
LightBoxes4Sale offers a multitude of Backlit and LED Light Boxes, including metal and wood light boxes and custom lightboxes, making this E-Commerce website a great destination when seeking advertising lightbox display frames for your indoor and outdoor illuminated poster display and lighted sign display projects. Lightboxes4Sale also offers the largest selection of indoor wall-mounted, swing open, changeable SwingFrame LED and Backlit Light Boxes designed and manufactured in our New York manufacturing Facility. Click Here
---
BulletinBoards4Sale.Com is a USA manufacturer of Patented SwingFrame Enclosed Designer Bulletin Boards and Designer Corkboard Display Cases and Frames. No other online bulletin board display store offers the variety of wood and metal profile styles that swing open like these lockable enclosed bulletin boards.

The Designer SwingFrame Bulletin Board Display Cases comes in numerous standard sizes from small to Large Bulletin Boards and even Extra Large Bulletin Boards and Cork Boards Cases. Illuminated Cork boards and Lighted bulletin boards are also available. And because we build to order we can also offer custom bulletin boards with fabric to fit your interior display cases design and style requirements as well as custom sizes and interior box depths.

Outdoor Bulletin Board Cases in 1, 2, and 3 door models that are weather proof, wall mount and freestanding ─with posts or legs can also be ordered. These Bulletin Boards branded as "SwingCases" Enclosed Outdoor Bulletin Boards, also come with optional lights and headers with your text message. Corporations, Businesses, Institutions, Schools and Universities, Financial and Medical Centers and Restaurants are some of the many industries that have purchased "SwingCases" Outdoor Bulletin Board Displays for their posters, menus and message centers. Click Here
---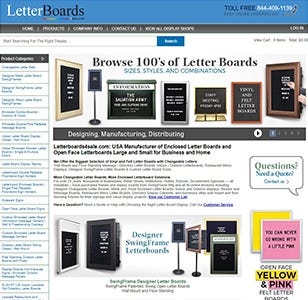 LetterBoards4Sale.com is a Long Island, NY manufacturer of Patented SwingFrame Enclosed Designer Letter Boards; No other online letter board display company offers the variety of wood and metal profile styles that swing open like these enclosed, changeable letter boards. SwingFrame Changeable Letter Board Cases are built with hidden hinges and gravity locks. You can't tell that these letterboard frames swing open. You can order numerous standard letter board sizes; from small letterboards to 40x60 large letter boards and even extra large letter board displays.

Each designer letter board comes with a set white plastic letters. Additional changeable letter sets in 1, 2 and 3 inch sizes can be purchased online. Wall Mount Enclosed Lighted Letter Boards are also available. Because we build to order we can also offer custom letter board display cases with several fabrics and vinyl finishes fitting your interior design and style. Outdoor Letter Board Cases in 1, 2, and 3 door models that are weather proof, wall mount and floor standing ─with posts or legs, can also be ordered. These outdoor letterboards also come with optional lights and header panels with your text message. Click Here
---
© 2019 DisplayFrames | A Division of Access Display Group Inc. | Telephone (800) 289-1539 | Fax (877) 842-5126