Printing Services

Our Optional Printing Capabilities Include:
Logo & Text Labels and Poster / Sign Printing for Your Custom Display Frame



---
Label Printing Services





Add Your Logo, Graphic,
or Create a Text Message
To personalize or brand your display frame, choose a frame that has a matboard. Next, upload your image file, or design your text message by choosing a font style from our online customizer. We'll create your design on our high quality label printer.




Choose a Matboard Color
for Your Display Frame
Our printing team will take your logo or message text and apply it directly to the matboard location, as per your customizer frame design. We offer a selection of 200+ colorful matboards to compliment wide-ranging wood and metal frame styles as well as your business or organization colors.


---
Large Format Printing Services





Posters, Signs & Graphics
Whether it's one print or volume printing, with our large format printer we can print small, large and extra large posters, signs or photos and include it with your display frame order. Please call customer service for more information on our printing services and to provide a formal quote.
Want to know more?
Click to learn more about our Products and Services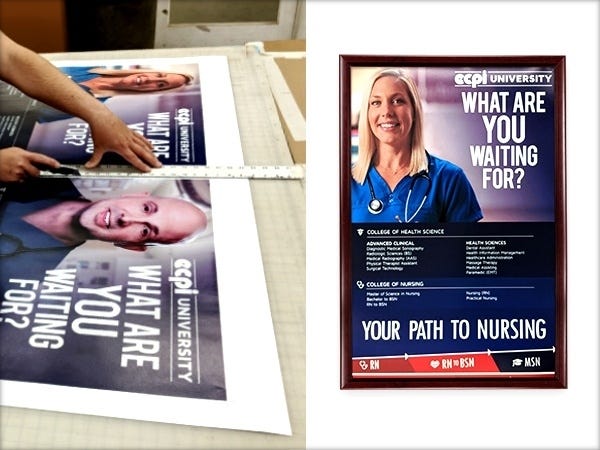 Simplify Your
Ordering Process!
By purchasing your prints with us, along with your display products, your order just got easier! All done in one location! We have the experience and printing capabilities to make sure the graphic looks great, and fits into your current or newly ordered display. We will have this live option on our website soon. In the meantime, call us for pricing.